Looking for the Best Barbershop in Summerlin?
Try Fino for Men, Summerlin's #1 Men's Grooming Lounge
A Little History
Summerlin has a long history dating back to 1952 when Howard Hughes first purchased the land that is now known as Summerlin. As a note, in his youth, Howard Hughes always made sure his appearance was impeccable, and was especially aware of his haircut and grooming, with a clean shave and a healthy head of hair parted and cropped impeccably.
In 2023, it is even more important to have your appearance looking as tip-top as possible. The existence of cell phones, messaging and video and social media leads one to be very careful that they aren't seen in the worst light.
One way to make sure you are always looking your best is a regular visit to Fino for Men, the best Summerlin barbershop.
As the premiere men's barber in Summerlin, Fino for Men is a gentleman's grooming lounge that exists solely to give you an elite level, personal experience that fits your goals for your hairstyle, beard or goatee, and more. Whatever your look may be, or if you are seeking a new look that flatters you, Fino for Men is the best barber in Summerlin.
Fino for Men's hundreds of 5-star Google Reviews will give detailed accounts from Fino for Men clients as to what makes Fino for Men the best barbershop in Summerlin.
For the best haircut in Vegas, the best beard trim in Vegas, and the best shave in Vegas, Fino for Men is Las Vegas' #1 destination men's grooming lounge.
Fino for Men's Summerlin location is an elegant men's grooming lounge for men who take their time and value their appearance. If you don't care about the way you appear at work and in your personal life, a visit to Fino for Men can change that. You wll leave feeling luxurious and the compliments you will get from those close to you about how amaing you look will be extremely addictive!
As with our popular Las Vegas barbershop location, our Summerlin barbershop is is an establishment for gentleman, created by gentlemen, in the traditions of the great, luxury grooming environments for men.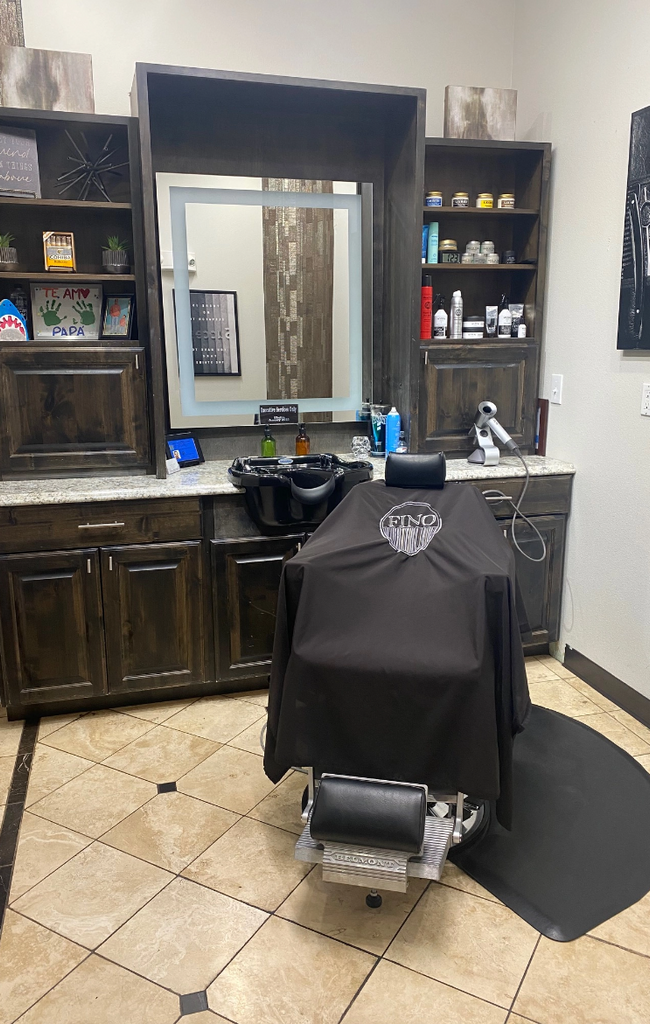 Fino for Men
™

Provides the Best Haircut in Summerlin

If you are in Summerlin and type in "barber near me" or 'barbershop near me", you are rolling the dice with someone who simply may destroy your hair and leave you cut up and sad with the results.

If they claim to be the best barber in Summerlin, watch out! Fino for Men is all about results, and commits to each client that the experience you will receive at our Summerlin barbershop is second to none. It will be the best Summerlin barber experience you will have, and have you coming back regularly.

You won't be rushed, and you will be treated with enormous respect. Our master barbers in Summerlin don't only claim to be the best, they are the best. Our barbers win awards and give the best men's haircuts in Summerlin.

Our Summerlin haircuts are works of artistry and grace. Here some common styles Fino's master Summerlin barbers can provide for you:
Quiff
Mohawk
French fade
Cropfade / Crop cut
Pompadour
Caesar
Taper
Fade / Bald Fade
Mushroom style
The messy look
Mullet
Comb Over
Mohawk
Gentlemen's Cut
If you aren't sure of the type of style you have, or want to try something new, or are looking for a free consultation from an expert, Fino for Men is your best barber in Summerlin.
Fino for Men's team provides expert advice on your hairstyle and will work with you and take into account the shape of your face, hair type, consistency, color and all of your facial features. We don't kill vibes, we enhance them.
Summerlin's Best Beard Barbers are at Fino for Men
™

!

Need a beard trim or shave in Summerlin? Running around Summerlin and Las Vegas and are ready for the best beard barber? You will find the best barber for your beard at Fino for Men in Summerlin.

The primary three type of beard trim and straight razor face shaves Fino for Men offers at our Summerlin location are:

Fino for Men™ Signature Shave
Traditional straight razor face shave (Includes a 4-step process w/ hot towel treatment)

Fino for Men™ Executive Shave
Therapeutic straight razor face shave (Includes a relaxing 4-step process, mini facial and essential oil induced hot towel treatment)

Beard Trim
This professional beard trim Includes finely tuned maintenance trim along with a complete conditioning of the beard
The Best Beard Trims and Shaves are at Fino for Summerlin Men's Grooming Lounge
You may not yet know what kind of beard you want but are ready for expert advice on your beard design. Fino for Men's Summerlin location has master beard barbers, who you can consult with in determining the best beard trim or beard style for you.
Feel free to bring photos of beards you like and show them to our Summerlin barbers. Our Summerlin barbers are exceptional craftspeople and can also help you get the perfect hairstyle/beard balance. You are going to come out of Fino for Men looking amazing. Our Summerlin beard trimming services include the best hygiene practices, the most modern and effective techniques, and the best shaving products to maintain your beard. The beard barbers at Fino for Men's Summerlin location have all of the proper licenses and certifications and our beard barbers. Many of the top celebrities, athletes and professional, stylish men walking around Summerlin and Las Vegas get their beards regularly trimmed and maintained at Fino for Men.
And just like at our popular Las Vegas location, we want you to relax and make yourself at home. All of our beard trimming services include a complimentary beverage, consultation, brand name products and an amazing hot towel treatment.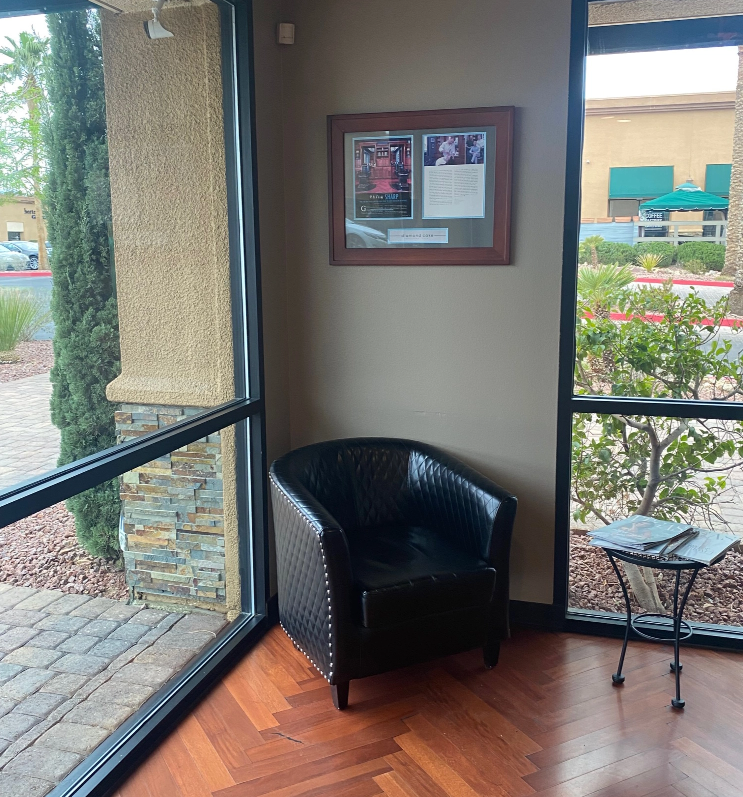 What Makes Fino for Men
™

the Best Men's Barbershop in Summerlin?
Our Summerlin barbers are artists who love their craft, love to serve people, and can provide a great haircut, beard trim and shave tailored to your needs.
Our Summerlin barbers will take the time to understand your individual preferences and provide a cut that fits your style. We also take the time to discuss different options and explain the reasons behind any decisions. On top of that, our passionate Summerlin barbers are always learning new techniques and trying out new styles, which can make for an exciting and unique experience.
Our Summerlin master barbers are elite level professionals who use elite level tools of the trade, and maintain their tools and equipment in a clean and professional manner. Fino for Men's Summerlin barbers are always working with the best tools and products, and providing our clients with a safe and hygienic experience.
Check us out today! Click above to make an appointment for our Summerlin location. You will be glad you did!
VISIT US
Tuesday – Saturday
9am – 6pm
*After hour services available upon availability
Sunday - Monday
Closed
Haircut

Cut, shampoo, conditioner, rinse & style

Signature Cut w/ mini facial

Cut for the little man (10–12yrs of age)
Beard Trim / Shave

Traditional straight razor face shave (Includes a 4-step process w/ hot towel treatment)

Therapeutic straight razor face shave (Includes a relaxing 4-step process, mini facial and essential oil induced hot towel treatment)

Maintenance trim along with a conditioning of the beard
TEAM
Managing Partner / Master Barber

Hair Stylist / Master Barber